Members get 15% off classes!  See schedule below to
book a class.
Bouldering Fundamentals – Free for all
In this hour clinic, climbers will learn bouldering fundamentals that will allow them to confidently boulder at any gym! In this course, boulders will learn proper body positioning, spotting and falling techniques, route reading strategies, and bouldering safety.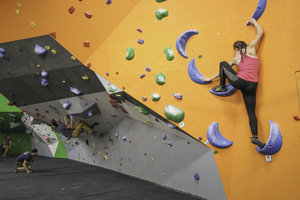 Rope Fundamentals – $25 or free for members
– SLO Only
In this hour and a half class, climbers will learn top rope fundamentals such as tying proper knots, terminology, belaying, and rope climbing safety. The climber will take the test the following day to prove that they were able to retain the information, not just store it in their short term memory and regurgitate it.
Gear needed: harness, belay device
Intro To Lead – $80
– SLO Only
Work with an experienced coach in a small personalized class to help build the skills and knowledge needed to safely lead climb. Practice proper lead climbing communication, lead belaying, clipping in, and lead falling, ending with the capstone of taking the gym's lead climbing test. Build a proper climbing foundation that will last a lifetime.
Gear needed: harness, belay device, rope