What you will find:
THREE levels of awesome – 2 fitness studios and a dedicated climbing training area with hangboards, systems board, and campus board
Tons of epic bouldering – 4000 sq ft
ROPES – 38 lead and top ropes anchors and cracks – 5 autobelays total and volunteer belay staff if you are partnerless. 9000 sq ft, 35 foot walls
Dedicated weight room/mezzanine
Dedicated kiddo area with top ropes and autobelay!
Shower
Outdoor slackline
Dog friendly rigs outside
Classes and youth programs and more!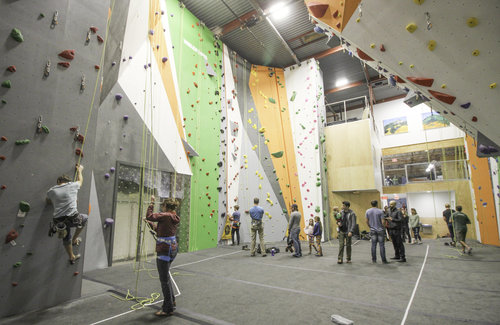 Your day pass or membership gets you access to…
TWO basic weight rooms:
We have a rowing machine and recumbent bike for cardio
Weight racks for dumbell and barbell work
Full set of kettle bells and dumbells
Medicine balls
Bands
Box jumps and a climbing/ninja training facility with peg board and systems training
Salmon ladder
Climbing rope
Gymnastics rings
Stall bar
Always adding more!
Yoga and other fitness classes
See schedule for details
We aim to be the best stuiod in town!
Climbing!
Free shoes for you to use
Slackline
Dedicated youth wall (shorter with holds closer together)
Membership gets you:
24/7 access to everything
Our book library at both locations
Monthly emails (or more) with updates and events
15% off retail and classes/clinics
Crash pad check out (because we want you to climb outside)
YES! We can accommodate groups at both gyms and birthday parties !